Friends…..Christmastime does not always bring jolly news to everyone. Unfortunately, I have bad news for the Buckler family/friends and our classmates.
Our dear classmate, Betty (Buckler) Thompson, lost her battle with MS on December 22, about 9:00 a.m. Her loving husband and family were by her side. Tim, her husband, was holding her hand as she drew her last breath. Betty knew how much she was loved by him because as he was telling her of his love for her, she was able to gently squeeze his hand. What a way to go! Betty is being cremated and there will be a memorial service the first or second week of January. I will post the obit and details as they become available to me.
Since Tim (Lasseter) Latta moved to Ft. Worth, she had been able to visit with Betty and Tim about every other week. Those visits were enjoyed by all.
Please keep Betty's dear family in your prayers.
— Jeanne Harman
Below are a few pictures with Betty that might bring back some memories.

5th grade May Fete at Crestview Elementary-
Betty Buckler is first row, first on the left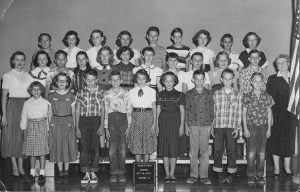 6th grade at Crestview elementary: October 1953
Betty is third from the left on the top row
Others in the picture are: John Pearce, Anna Louise Logan, Margaret Baker, George Compton, Bob Willingham, Gaelyn Corbin
Sharon McCarthy, Ralph Gray, Leon Meadows, Karon Shinault, Donna Grisham, Randy Turner, Mary Ann Wilson, Barbara Williams, Randy Farrar

5th grade at Crestview- Betty is at the blackboard on the left.
Other classmates pictured are Bob Willingham, Charlie Sligh, Mrs. McCarthy, Betty Luedeker, Poppy Early,
Sharon McCarthy, Linda Shelby, Roy Marlow, Gaelyn Corbin, Robert Boatman, Ralph Gray, John Pearce, Barbara Williams, Mary Ann Wilson